Over Seventy Years of Faith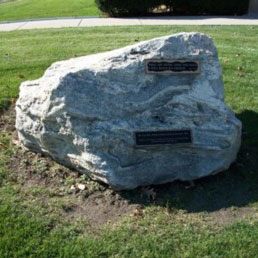 On February 22, 1945, sixty-eight Catholic residents petitioned Bishop Joseph Albers "For the creation of a new parish to be located in or near the city of Grand Blanc, Michigan." In January of 1946, the site for the new church was purchased that "was ample, was in the city, and had city facilities…" Msgr. Herman Fedewa, a pastor in Owosso, was named temporary administrator.
On July 20, 1946, the parish was canonically erected and Father John Bush was appointed as its first pastor. The Church of the Holy Family celebrated its first Mass together on August 4 and two infants, Lene Heatherly and Michael McCall, were baptized that afternoon.
The present church site was proposed in 1951 and a church was dedicated in 1953. The church was expanded in 1964, redesigned into its current cruciform shape, and dedicated on September 6 of that year.
Ground was broken for a school in 1955 and the Sisters of St. Joseph from Nazareth, Michigan staffed it when it opened in September of the following year. The first building was expanded in 1960, again in 1966, and finally in 1995. The current school enrollment is about 350, grades Pre-K through 8.
Fr. James R. Swiat was appointed as the parish's second pastor in 1983. That fall, the new parish center was dedicated and named in honor of Father Bush. In June 2007, Fr. Kenneth F. Coughlin was appointed as the third pastor of Holy Family. In June 2015, Msgr. Jerry Vincke was appointed as the fourth pastor. After 3 years at Holy Family, Msgr. Jerry was named Bishop of the Diocese of Salina, Kansas. Fr. Joseph Krupp was then named Holy Family's fifth pastor in June 2018.
The Grand Blanc area and this parish have seen a marked increase in population and activity in the past decade. The Parish has a current membership of more than 5,700 people in nearly 1,800 households. Truly, "God has done great things for us."