"Parish Religious Education is important for children because that is where they make their first connections between the Catholic faith and their identity as people called to that faith. It is where they first encounter, in a significant way, their companion members of the Body of Christ, and where they begin to understand what it means to belong to a community of believers. And it is where they begin to learn that God is bigger than – but at the same time deeply a part of – their own families. "
Does my child need Religious Education by Larry Livingston; Liguori Publications, 2004
Questions? Please call the Religious Education Office at 810-694-9072.
Children's Liturgy of the Word
Sunday during 10:00 a.m. Mass
Children preschool through 2nd grade wishing to participate in the Children's Liturgy of the Word will be dismissed for the gospel during the 10:00 am Mass. Children will be dismissed by the Celebrant and we will go with the leader over to the school for the Liturgy and return to the church just before offertory.
Religious Education Classes
Grades K – 6
Sunday 11:30 a.m. – 12:45 p.m.
Grades 7 – 8
Sunday 6:00 — 8:00 p.m.
Youth Group
High School Youth Group Grades 9 – 12
Sunday 6:30 – 8:30 p.m.
In the St. Joseph Center
Vacation Bible School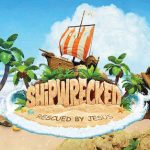 June 18th – 22nd, 2018 | 9:00 a.m. – noon
This year's theme is "Shipwrecked." Kids will discover how Jesus rescues us through life's storms. Shipwrecked is
filled with incredible Bible-learning experiences, team-building games, awesome music, crafts, snacks and more!
We are looking for volunteers to help at VBS – station leaders, teachers, and aides. This is a perfect opportunity for
those in grades 5-12 to join our crew to help make this year's VBS a success! All training and materials will be provided. Call Jan at 694-9072,ext. 151, to volunteer.
Below you will find the registration form which is due June 4th, 2018.  Due to limited supplies and space we will not be able to accept late registrations.
Mission Makeover 2018 Edition
Save the date for this year's Service Week, which will be held July 9-13, 2018.
What is Mission Makeover?
It is a summer program for students in middle and high school to be involved in mission work locally. The week will
provide students with the opportunity to serve others both in our parish and the local community. Some of our work
sites include Catholic Charities, North End Soup Kitchen, Community Closet, Senior Centers, parishioners homes and our parish grounds. The week will also include tons of fun with various evening activities and a fun day Friday at
a water park. Registration forms are available in the Religious Education office.
Need More Information?
Mission Makeover Parent Informational Meeting Sunday, April 29th, 11:00 a.m. (following the 10:00 a.m. Mass) in the school Please join us for this informative meeting regarding the upcoming Mission Makeover. Members of the Mission Team will be there to answer any questions you may have and registration forms will be available. If you have questions prior to the meeting, please call the Religious Education office at 810-694-9072, ext. 101.